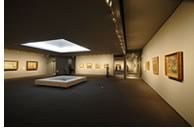 ■Permanent Exhibition Gallery
Approx. 9,000 artworks are on display in sequence in the eight exhibition rooms on the first floor and the second floor. Themed exhibitions are also held.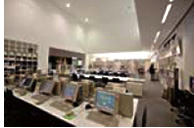 ■Art Information Center
Visitors can find books on art, access the Net Museum Hyogo Bungakukan (online library), search artwork collections and information on architecture by Ando Tadao, and view audiovisual software free of charge.
Applications for the museum supporter's group "Tomo no Kai" are also accepted here. Posters and brochures of the exhibitions held in museums all around Japan can be found here as well.
*Applications for documents and audiovisual software viewing need to be done at least an hour prior to the closing time.
*Reference services 10:00-17:00
*Photocopy service (fees apply) is available until 30 minutes prior to the closing time.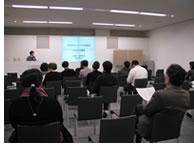 ■Lecture Room
Explanatory meetings and lectures by curators and volunteers are held here. Also is the venue for video screening.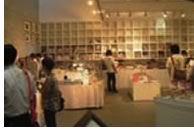 ■Museum Shop
We have a wide variety of goods: pictorial records, picture postcards, exhibit-related items, the museum's original goods, and much more.
Phone: 078-265-6655
Hours of operation: 10:00-18:00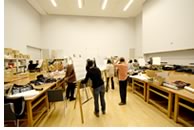 ■Studios 1 and 2
These are spaces with equipment for producing art. Concerts are held in Studio 1 as well. Studio 2 is used for practical lectures and programs for children.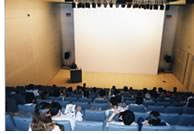 ■Auditorium
A hall with 250 seats and equipment for film screening. Regular film screenings, as well as lectures and exhibit-related events, are held here.
*Entrance also available on the second floor (depends on event).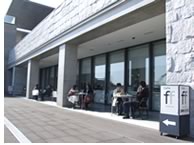 ■Café
A self-service coffee room with an open terrace. Beverages along with sandwiches, snacks and cakes are available.
Hours of operation: 10:00-18:00 (Last order 17:30)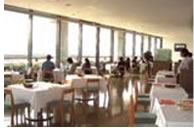 ■Restaurant
Enjoy a relaxing time in the bright restaurant facing the sea.
Phone: 078-265-6100
Hours of operation: 11:00-18:00 (Last order 17:00)
*Entrance to the restaurant is at the outdoor area on the sea side. If coming from the exhibition galleries, please go down to the 1st floor entrance hall then to the 2nd floor using the circular terrace stairs or the elevator.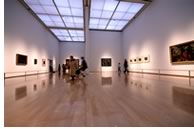 ■Temporary Exhibition Gallery
Special exhibitions displaying art from around the world are held in the three rooms of the Temporary Exhibition Gallery.


■Private Exhibition Gallery
Space open for art associations and local people to display their own artworks.


○Lockers
One 100 yen coin is required to use a locker (Retrieve the coin after using the locker).

○Wheelchairs and baby strollers
Free rental service is available. Please ask the staff at the 1st floor information desk in the Entrance Hall.

○Restrooms
All restrooms (excluding restaurant bathrooms) have spaces for wheelchair use, and feature Ostomate-support toilets.
Beds for diaper changing are also provided.

○Umbrella stands
One 100 yen coin is required for use (Retrieve the coin after using the umbrella stand).

○AED (Automated External Defibrillator)
Available at the information desk.

○Facility rental
Lecture Room, Studios, Auditorium, and Private Exhibition Gallery are open for rental for workshops, art production and exhibition displays. Please contact us for further information.

Rental Spaces









Rickey, George
[Two Lines Facing Up - Thirty Feet]


César [The Eiffel Plate]


Moore, Henry [Goslar Warrior]


Yamaguchi, Makio [Saddle in the Sun]


Shingu, Susumu [Faraway Rhythm]

Motonaga, Sadamasa [Twirling Yellow]

Motonaga, Sadamasa [Yellow and Blue]

Zadkine, Ossip [Home]
Sculpture works are also displayed in the Entrance Hall, such as [Head No. 2] (Gabo, Naum).



Imamura, Teruhisa [Form in the Absence 26]
*Please do not stand on the art piece. It is dangerous.




| | |
| --- | --- |
| | |